The Importance of Having a Website and Having Someone Manage your SEO
The industry of digital marketing has evolved into more than the use of the Internet and technology to aid 'modern marketing'. It has grown into a confusing jumble of technical jargon of various meanings by professionals and academics. One common phrase that is tossed around is SEO.
SEO stands for 'search engine optimization' and is the process of getting traffic from free search results, otherwise known as 'organic search results'.
SEO is important to growing a company's brand presence because Google alone has market dominance over over search engines, totaling 74.54% of the market in 2017 and 3.5 billion searches a day. That totals to 1.2 trillion searches per year worldwide. And this number is expected to grow. These numbers increase opportunity for brand awareness, but also competition in validating a spot in the top searches. The challenge is figuring out the optimal way of increasing online visibility of a web page in the search engine's unpaid results. According to Search Engine Watch, there are four pillars of SEO Management to successfully target your audience.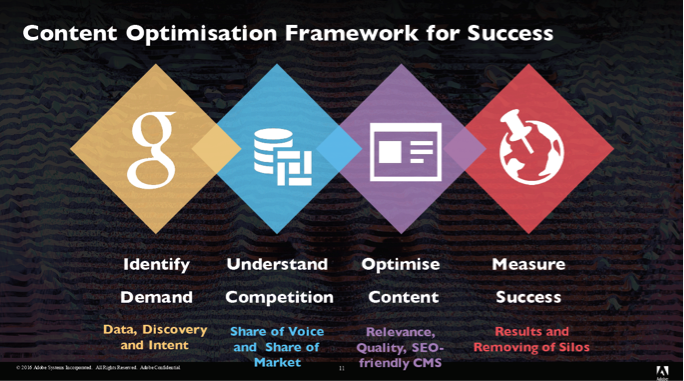 Image Source – Andy Betts, Adobe Summit EMEA, Optimizing Content for The Customer Journey
Identify your demand
Knowing what topics your target audience is searching for is crucial in the beginning stages of SEO optimization.
Benchmark the competition
For SEO management it is important that your content is ranking high, but more importantly outranking your competition. This is why it is important to recognize your company's competitive advantage against other brands.
Create and optimize your content
Using the right keywords (more of the marketing jargon) is essential to providing material to your clients that they will want to read. The more clicks content receives, the higher it will be pushed up in the ranks. It is important to create unique content catered to your industry.
Measure your Results
The analytics that are behind all of this cultivated data is the key to unlocking your future campaign strategy. It is vital to track each stage of your campaign because you want to adjust your strategy each time to move forward in your SEO investment rather than staying stagnant.
Searches made each day
Image Source: https://www.smartinsights.com/search-engine-marketing/search-engine-statistics/
SEO Management. A Full Time Job
Does this seem overwhelming and a lot to handle? SEO Managers are being equipped into large and medium sized companies due to all the varying demands that come from developing campaigns and tracking them. For smaller companies though, this is not always feasible to hire a salaried position for running SEO optimization. Lead generation is just one of the many aspects that Pearl Marketing Design incorporates in their business. A marketing agency to manage effective brand and marketing strategies is generally the best option for small to medium sized companies looking for an alternative to individual hires to run their campaigns.
At Pearl, we help you increase the quality of traffic to your website through organic searches (some refer to this as Google searches). Contact our company today at 
www.pearlmarketingdesign.com
 to learn how we 
can
 can help you.